Google SERP Simulator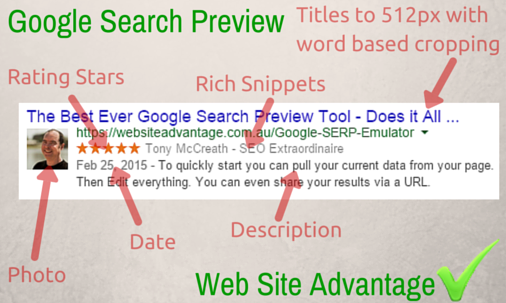 Control what Google displays
When Google shows your website pages in its Search Engine Result Pages (SERPs), it typically displays content from the page itself. Your listing in the search result is called a snippet. Google often takes the snippet's title from your page's title tag and the snippet's description from your page's meta description.
What if your page's title or meta description is missing, of low quality or doesn't relate well to the search query? In these cases, Google will find another source for the text it displays. It may be taken from page headings, visible content or even text in links pointing to the page.
Google will only display so much information. For desktop results, it is up to 600 pixels for the title and around two lines for the description (I estimate about 157 characters). This preview tool simulates the 600px limitation so that you see what your website may look like in the Google Search Results. This way, you can fine-tune your text to capture people's attention.
If you want to test how an existing page may look, enter its URL, then click the Acquire Text button to have it fill in the text from the page.
You can then edit the title and description to experiment with how your text may make you look in Google's Search Results. Once you have a stunning result, you can copy your new values back into your website page.
Google frequently highlights words in the search results that relate to the searched for words. You can simulate this by adding space-separated words to the Search Word list.